A patented system, a unique and everlasting solution for a proper way to prepare healthy food.
Masterpiece Cookware's superior Zepter Metal 316L, advanced technology and innovative design enable cooking without water and frying without fats so food is healthier yet tastier, retaining its natural aromas, flavours, nutritive and biological values (vitamins, minerals, proteins, micro and macro trace elements), with fewer calories and no dangerous substances. Cooking with the stackable Masterpiece Cookware system saves food, energy, time and money, but most importantly, protects your health.
Zepter has conquered the world with the Zepter Masterpiece System. Today, more than ever before, everyone needs Zepter products. Our Mission of Health is the simple and evident way to bring essential quality to your lives.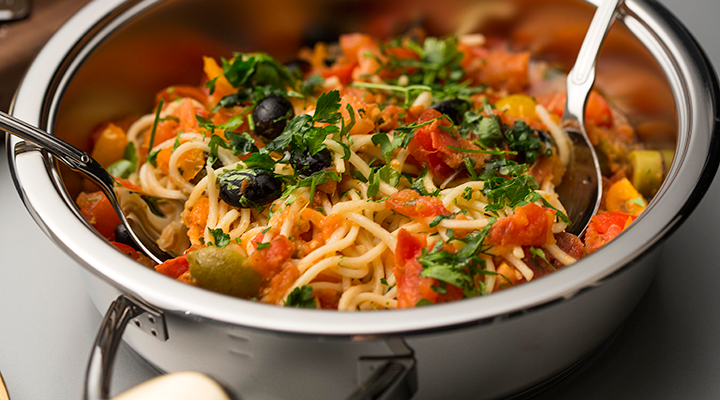 ZEPTER SUPERIOR METAL 316L
It transfers the heat evenly
Food does not burn
Tottally resistant to corrosion
Does not change colour
It is non-porous and does not retain food odours
Easier to use, clean and maintain
Indestructible, more resistant to physical and chemical effects
Environmentally-friendly
It is neutral and does not cause allergies
Unlimited guarantee
Modern design and technology
ZEPTER ACCUTHERMAL COMPACT BOTTOM
The patented triple Zepter Accuthermal Compact Bottom (ZAC) is the heart of Zepter's proper and everlasting way to prepare healthy food. It is made of 3 layers of light metal: inductive, accumulative and conductive. It is compressed by a pressing machine which exerts up to 2,000 tons of pressure (not glued or soldered together). It is indestructible, compact and undeformable after use.
ZAC accumulates energy and transfers the heat quickly and evenly to the food so that it cooks at low temperatures. It saves 70% of food and energy. Designed for all heat sources, including inducted heat.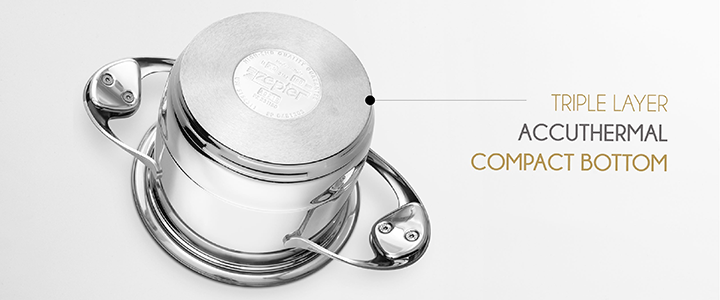 URA - A REVOLUTIONARY NON-STICK TECHNOLOGY
Zepter URA (Ultimate Resistant Application) is an innovative non-stick technology. No harmful coating is applied, making it safe for your health.
The non-stick surface is created by a unique method that improves the structure of the metal on the inner surface of the pot; it is an integral part of the existing metal and cannot be detached, thus making the Zepter Smart Line Masterpiece Cookware indestructible, everlasting and absolutely safe.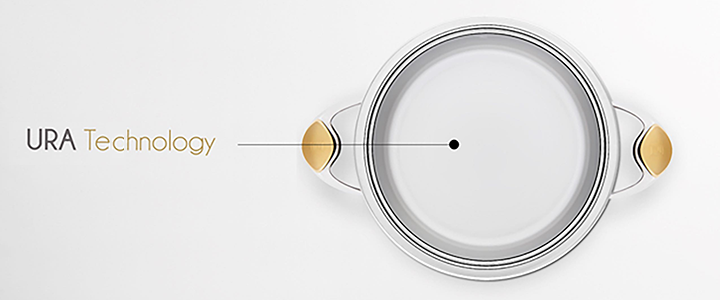 ZEPTER MULTIFUNCTIONAL LID
Considerably heavier, ensuring that nothing escapes from inside the pot.
The magnificent contemporary design of the Zepter Lid features a convex shape with stylised "waves". The centre of the lid is higher and rounder, offering more volume. For added convenience, the Zepter Lid can be rested on the Zepter patented Handles to save countertop space.
The specially designed Zepter Lid fits perfectly onto the pot edge, hermetically sealing the pot by a water seal, which enables the Zepter Closed Circle process.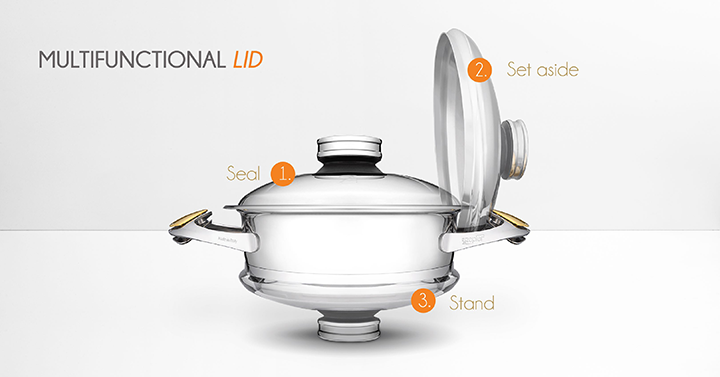 Zepter Closed Circle is a process where the steam released by the food rises to the top, condenses upon contact with the lid, which is always cooler than the rest of the pot, and drips down onto the food. The process goes on undisturbed, until the food is perfectly cooked.
The Zepter Closed Circle process allows the nutritional liquid to remain inside the pot and preserve the food, which is cooked in its own juices. The Zepter Closed Circle ensures the proper way of preparing healthy food, without adding water or fats, and always at low temperatures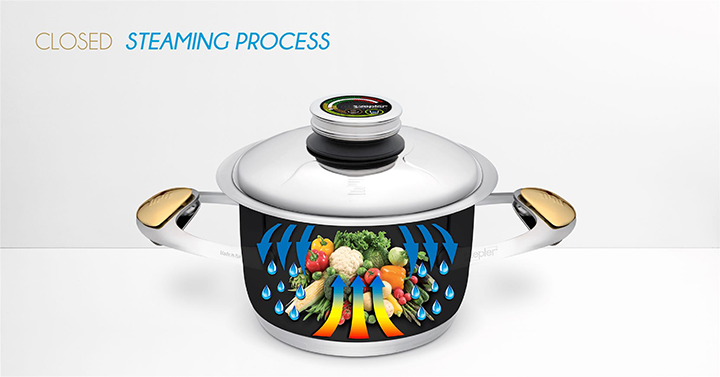 ZEPTER POT EDGE
Does not spill over, it is cooler than the bottom of the pot and always stays clean.
ZEPTER POT WALLS / BODY
Always cooler than the bottom, it enables condensation of nutritional liquids and the Closed Circle.
A SAFE TOUCH - ZEPTER HANDLES
The Zepter patented Handles are uniquely designed not to overheat due to the patented technology ensuring minimal connectivity with the Zepter Masterpiece Cookware body. Their ergonomic and stylish design allows for a comfortable firm grip and easy handling. The handles are oven safe and easy to clean.
• Uniquely designed and patented not to overheat
• Ergonomic and stylish
• Special Zepter PVD application
• Excellent durability and resistance to scratches
• Smart and practical design, enabling you to rest the lid on the pot handles
• Oven safe (will heat to oven's temperature, so oven gloves required)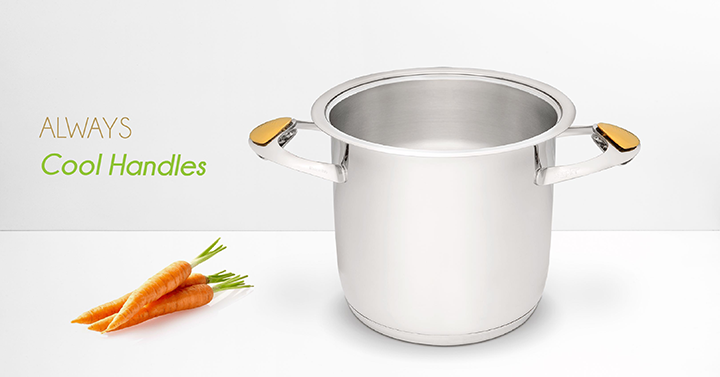 The Zepter Thermocontrol is a device that allows you to prepare healthy food the proper way at the correct temperature and to control the cooking process without lifting the lid.
The food cooks in its own juice at low temperature, retaining its nutritive and biological values. Closed Circle process goes undisturbed.

Zepter has created a system based on a full range of cookware that can be used to prepare every imaginable dish. Whatever you need in terms of pot size and shape, the Zepter Superior Multisystem can deliver.
DEEP POTS are perfect for delicious soups and consommés.
OVAL POTS are used to prepare easy roasts of any kind, for you, your family or guests.
In need of the perfect fit for your stews? Choose from one of our variously-sized CASSEROLES for your next healthy culinary achievement.
Sudden craving for fried food? Use the Zepter FRYING PANS to fry without adding fats.
In need of the perfect grill? Use QUADRA, and enhance your cooking experience, not only with properly prepared healthy food, but by cooking with exceptional cookware shapes that will astonish you with their beauty and practicality.
And if you are a true chef, accustomed to exploring different cultures through the tastes and aromas of local cuisines, bring Asia to your home, and prepare more healthy food in our Zepter WOKS.
STACKED COOKING
The Superior Multisystem allows stacked cooking enabling the simultaneous preparation of 2-3 meals on a single hob, always at lower temperatures, thus preserving the food's nutritional values.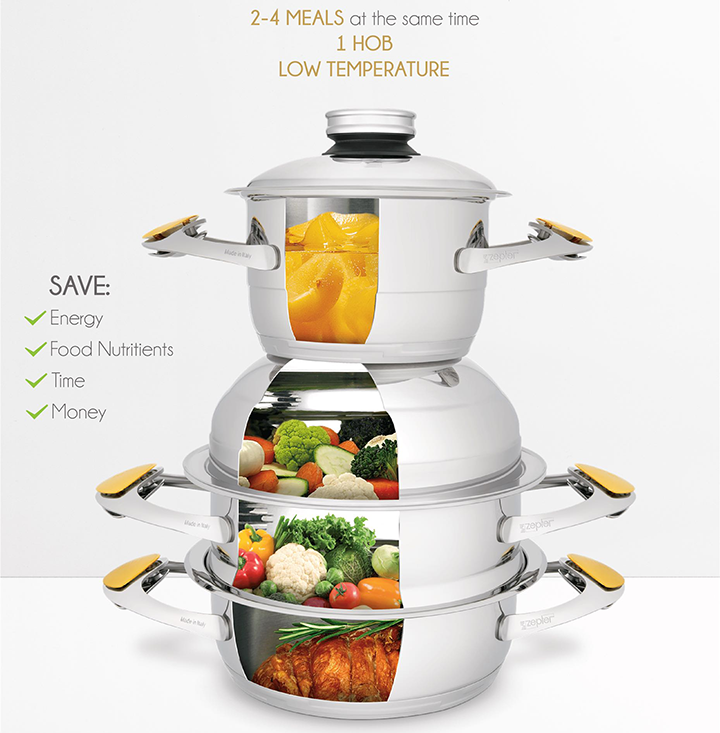 ZEPTER SUPERIOR MULTISYSTEM GIVES YOU MORE!
Patented system for a proper and everlasting way to prepare healthy food, for a better and longer life
Superior metal, cutting-edge technology and luxury design
Safe, hygienic, environmentally-friendly
Multifunctional, with the simultaneous preparation of several meals on one heat source
Easy to use and easy to maintain
Saves energy, food, time and money
Protects your health
Investment for generations to come
EAT HEALTHY. LIVE BETTER. LIVE LONGER